Flipping through the pages, you will discover a welcoming Kochi. Would you like to come to Kochi, too?
KIKAN KOCHI English version is free.

The free map which is convenient for sightseeing.


KIKAN KOCHI Mascot
KIKO
What's "KIKAN KOCHI"?
KIKAN KOCHI is a local quarterly magazine that's crazy about Kochi.
We cover a wide range of topics connected with Kochi, such as people, food, and lifestyle.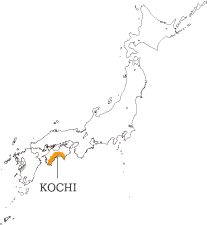 About Kochi Prefecture
Kochi is located on the south coast of Shikoku and has a rich natural environment with the sea, mountains, and rivers.
Kochi's tough but rich natural environment has shaped a unique culture.
Kochi food is delicious and satisfying. Kochi people eat a lot, drink much more, and smile a lot. Also, in Kochi lots of people approach life with their own unique viewpoint.